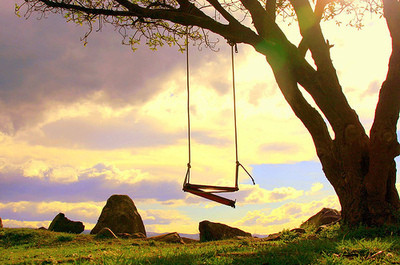 You know, the one that was a little weathered and beaten down, but helped me stay in the 'swing' of things? It kept me tethered to the place where reality and fantasy collide. The one place I could escape into the worlds where my stories took shape. I desperately need it back.
There is a favor I must ask if the swing happens to be in your possession. Please do not repair it. The state it was in at the time of it's disappearance is the state I would like it returned in. The rope is a little rough against the palms of my hands, and the seat will leave a splinter in your arse if you slide too quickly from it. It is falling apart and not worth much, but in my eyes, it was the most perfect swing I could ever ask for. If you see it, please be kind and return it, so I may fall back into the swing of things.
I would post a reward for the safe return of my swing, but alas, you know the old saying about starving artists….
Sincerely,